Intuos 4 Wireless Review
Manufacturer:
Wacom
Product:
Intuos 4 Wireless
Date:
Wednesday, April 7th, 2010
Written By:
LLRRoD
---

Introduction:
I am proud to present, our very first review here at PC Tech Advice.  A couple of weeks ago I talked with Douglas Little from Wacom and he sent over a review sample of their latest professional grade tablet, the
Intuos 4 Wireless Edition
.
This new version is everything the Intuos 4 tablets are with the added benefits of wireless connectivity. It takes advantage of bluetooth technology and is powered by a single lithium ion rechargeable battery. If you're unfamiliar with the Intuos, it's basically the second of three distinct lines that Wacom carries; the Bamboo and the Cintiq being the other two. The wireless version was officially announced in February of 2010 and was made available to the general public around the end of March.
Today, we will take an in depth look at all the features packed into this gem.
---
Here are some quick information about the Intuos 4 (from Wacom's official site).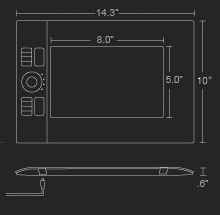 Active Area:
8.0″ x 5.0″ (203.2mm x 127mm)
Physical Size:
14.3″ x 10.0″ x 0.6″ (363mm x 253mm x 15 mm)
Weight:
2.2 lb with battery (1.0kg)
Pressure Levels:
2048
Advanced Pen Tip Sensor:
Yes
ExpressKeys:
8
Finger-Sensitive Input:
User-defined Touch Ring controls up to four functions
Tilt Sensitivity:
±60 Degrees
Display Toggle:
Yes
Application-Specific Settings:
Yes
Connection:
Bluetooth, USB for charging
Compatibility:
Mac and PC
Mouse Included:
No
Color:
Black
Warranty:
2-year in USA and Canada 1-year in Latin America
---
Official System Requirements
(also from Wacom's Official Website)
Bluetooth (version 1.2 or higher) enabled computer. Windows 7, Windows Vista
Windows XP (SP2+), Mac OS X 10.4.8+.
Note: Also requires color display, powered USB port, CD/DVD drive, and broadband Internet connection to download bundled software.
---